Here at Piper's we offer gluten and diabetic preparation for all choices.
Please advise your

server or by reservation.
Private functions, groups * menu for 15 to 40 guests*
Children's choices, weddings, family reunion, rehearsal parties, or other special occasions.
*Banquet Menu * $45.00 + tax and gratuity per person
Select 3 Choices
Appetizers
Piper's * Caesar Or Garden Salad
Entree 3 Choices
Roast Chicken Dinner with cranberries & gravy ,
Honey Dijon Chicken breast Or Chicken Pasta with Garlic Bread
Seafood Casserole ( salmon, haddock, shrimp, scallops & lobster in a cheese wine sauce)
Beef Tenderloin tip Casserole with choice of Mushrooms & or onions & 2 cheese
Fresh Haddock with Lemon Butter or Dill Sauce
Potato choices
(Mashed, oven roast, or Baked)
Vegetables
Honey glazed carrots & turnips
Dessert
German Apple Rum Cake, Chocolate Marble cheesecake
or dessert for the day
Tea or Coffee
* * *
LUNCH MENU
(minimum 20 )
$22.00 + tax+gratuity please order by 11:00 am.
CASSEROLES served with house salad
SEAFOOD, CHICKEN or BEEF TIPS
MUSHROOM CAPS, lobster, mix seafood or chicken
PASTA'S chicken,seafood, veggie baked with 3 cheese medley
Dietary concerns call
DESSERT CHOICES
Chocolate marble cheese cake, Hawaiian parfait or German apple rum cake $8.00
Tea or coffee $2.50
This is our sample menu call Brenda with your suggest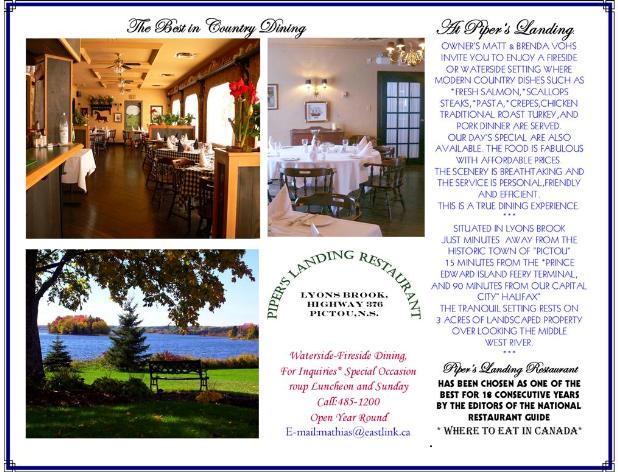 Wonderful scenery for a lasting memory photo!